Commercial Pressure Washing in Hickory, NC
Maintain Your Commercial Property's Exterior Surfaces With A Trusted Commercial Pressure Washing Company from Hickory
Precision Powerwash of NC is the leading commercial pressure washing company for Hickory businesses. There is no job too big or small for our pressure washing experts, and we look forward to helping you improve the look and quality of your commercial property so that you can take your business to the next level! If you're faced with a series of visible afflictions hurting your business's reputation, then Hickory's finest commercial pressure washing company is here to save the day. Let Precision Powerwash of NC help you rejuvenate your livelihood and take pride in your property again! Click here to read about TRS Concrete Sealing in Hickory, NC
The Importance of Commercial Pressure Washing For Your Business
We've all seen business buildings that spell neglect. From black and green stains cascading down the walls to wads of gum piled up on the sidewalks, these businesses appear rundown and less reliable. They are also in danger of losing new customers who may see the physical state of the building and decide not to enter. As a business owner, you want to be sure that you're doing everything you can to attract new clients. This means that commercial pressure washing should be a yearly priority so that your business always appears appealing to your customers. Clean commercial properties also provide a healthy environment for clients and employees alike. Mold and mildew spread quickly on building exteriors. If they aren't removed quickly enough, then they can worsen and spread to the inside of the building. Once there, they can potentially cause allergies for everyone. Pressure washing kills these toxic growths and ensures a safe and healthful atmosphere for all.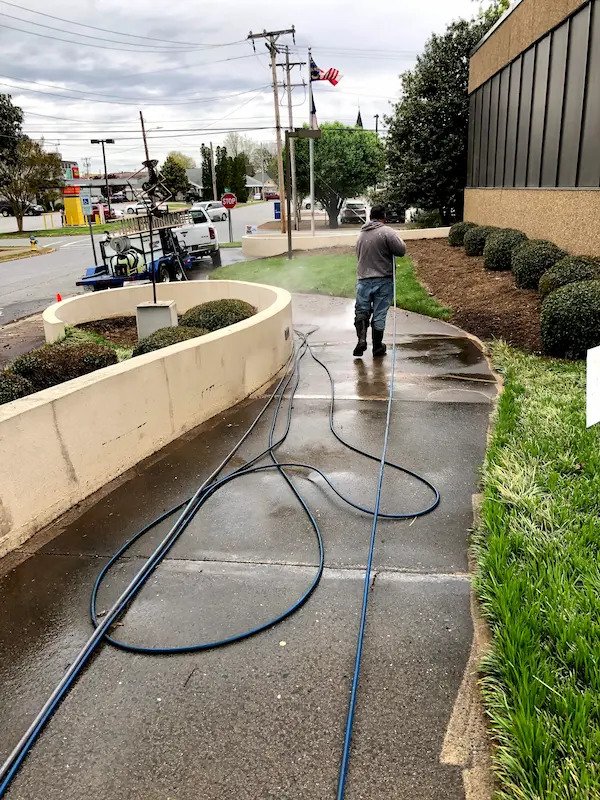 As the top commercial pressure washing company in Hickory, Precision is eager to transform your business from dirty and depressing to streamlined and professional. We even offer expert fleet washing to keep your commercial vehicles in excellent shape, too!
Why Hire Us?
Precision Powerwash of NC has perfected the art of pressure washing to maximize your satisfaction with our work. Our commercial pressure washing company is devoted to giving your business building the exterior cleaning it needs to stand out for all the right reasons. With a decade of experience and an owner with the keenest eye for detail, our crew has developed the skills and knowledge to supply the results you're looking for correctly and efficiently. Let our commercial pressure washing company bring your business property back to life and improve the quality of your work environment.