TRS Concrete Sealing in Hickory, NC
Protect Your Concrete Surfaces & Keep Them Cleaner With Thermo Reactive Sealer And Concrete Sealing
Precision Powerwash of NC offers Hickory homeowners the concrete sealing services they need to preserve their home's hardscapes. Concrete sealing has a host of benefits, some of which can help your hardscapes last for decades. Our trustworthy pressure washing is only the beginning of your beautiful concrete!
Hickory can rely on Precision Powerwash of NC to deliver thorough and effective concrete sealing to keep your masonry in the best condition possible. Call us today to inquire about our sealing services. Also, see about our roof and gutter cleaning services to ensure that all your major home exteriors are getting the protection and maintenance they need! See here for information about Red Clay Removal in Hickory, NC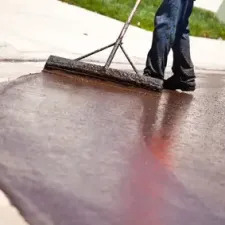 The Benefits Of Thermo Reactive Sealer (TRS Sealing)
TRS sealing is a well-known and widely applauded method for protecting your concrete fixtures from the elements. TRS, or Thermo Reactive Sealer, is a chemical solution that forms a cross-linked barrier over driveways, sidewalks, brick, and other masonry. TRS is beneficial for concrete fixtures because it:
Protects them from harsh weather conditions. Harmful UV rays, ice, snow, and acidic rain all take a toll on your concrete on a regular basis. TRS prevents these elements from wearing your concrete down, so it stays intact.
Prevents stains. Oil spills and other vehicular fluids won't be able to tarnish the look of your concrete thanks to TRS's protective coating.
It makes them last longer. It's no secret that TRS helps things like your driveway and sidewalk stand the test of time. With extra protection, these fixtures can reach their maximum lifespan, and you can avoid costly total replacements.
Improves the look of your concrete. The color of your hardscapes is constantly fading or changing due to constant exposure to outdoor elements. With TRS, your concrete can retain its original vibrant color, which improves the whole look of your home.
Inhibits weed growth. Weeds growing up in the seams of your driveway and sidewalks are eyesores that make your look rundown. TRS and concrete sealing can prevent this welcome growth so that your concrete looks well-manicured.