Gum Removal in Hickory, NC
Complete Gum Removal & Cleaning For Commercial Properties
To keep your Hickory commercial property looking clean and professional, business owners need to take advantage of Precision Powerwash of NC's gum removal services. The buildup of chewed gum on your walls and sidewalks is a disturbing sight for potential customers. It sends the message that your property isn't well cared for and that it may not be as trustworthy. Our top-quality commercial pressure washing is the remedy that will blast caked-on gum from your exteriors and save your business from a sticky situation.
Dried and hardened gum can be one of the trickiest substances to remove from your property without causing damage. The pressure washing professionals of Precision have the equipment and experience to effectively remove even the most ground-in gum from your concrete walls and sidewalks, so you won't be forced to struggle through your own tedious DIY effort at gum removal.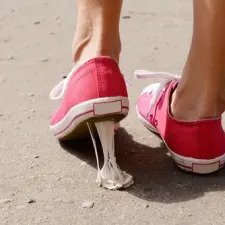 Why Your Business Needs Professional Gum Removal
It protects your customers. Not only do customers not want to see a grimy pile of gum as they enter your storefront, but they also don't want to step in it. Stepping in gum can ruin your customers' footwear and give them a bad impression of your business before they even get through the door.
It keeps the inside of your business safe. If your storefront has a gum problem, then there's every chance that someone could step in some and track it inside. If you thought gum on the exterior of your business was annoying, then you'll especially hate seeing it smeared on the inner floors of your store. Professional gum removal eliminates this possibility and keeps gum off your clean floors.
It cleans the sidewalk as well as removing the gum. Using chemical cleaners or putty knives to get rid of gum wads individually may work to an extent. However, it won't clear away the dirt and stains left behind once the gum is gone. Gum removal via pressure washing not only melts and dissolves gum, but it eliminates any other grime and discoloration present on your exteriors.
To keep your commercial property looking great and free of unsightly gum buildup, contact Precision Powerwash of NC, the gum removal expert of Hickory, NC.