Heavy Equipment Cleaning in Hickory, NC
Heavy Equipment Cleaning For Industrial and Commercial Equipment In The Greater Hickory Area
If you have been searching for professional heavy equipment cleaning specialists in Hickory, NC, then you can't go past our team at Precision Powerwash. There isn't a piece of heavy equipment that we haven't been able to clean yet, and we're up for any challenge. 
There's no denying that heavy equipment faces some serious challenges. After all, it's designed to be used in some of the worst conditions, such as water, mud, dust, dirt, and just about any other scenario, you can imagine. Keeping your heavy equipment clean can feel like a full-time job, but the good news is that with our team of experienced operators at Precision Powerwash, we can take the hard work out of keeping your heavy equipment clean.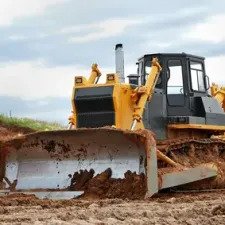 Heavy Equipment Cleaning Hickory 
Are you tired of seeing your heavy equipment look filthy or run down? Then it's time to call the Hickory heavy equipment cleaning specialists at Precision Powerwash. Our experienced and professional operators have been cleaning heavy equipment and industrial vehicles in the Hickory area for years, and we'd love to be able to help your business with any heavy equipment cleaning. 
At Precision Powerwash, we provide a variety of different pressure washing services, including:

Pressure Washing

Soft Washing

Roof Cleaning

House Washing

Deck Cleaning

Gutter Cleaning

Red Clay Removal 

TRS Sealing

Shopping Cart Sanitization

Gum Removal

Stain Removal

Maintenance Cleaning

Heavy Equipment Cleaning

Fleet Washing



Keeping heavy equipment and industrial equipment clean often feels like a full-time job. You need your employees to spend more time operating the heavy equipment and less time trying to keep it clean. The good news is that we have the equipment and experience at Precision Powerwash to thoroughly wash your heavy equipment. We can even set up regularly scheduled appointments to keep your heavy equipment fleet clean. 
Heavy Equipment Cleaning Near Me 
If you have been searching for heavy equipment cleaning near me in Hickory, NC, then look no further than our experienced and affordable team at Precision Powerwash. We have decades of combined experience cleaning all sizes and types of heavy equipment. 
As part of the local Hickory community, our employees understand the importance of doing a great job for all our clients. When they aren't busy cleaning heavy equipment, they're spending time with their family and enjoying local Hickory activities such as the Hickory Community Theater. 
Heavy Equipment Cleaning Professionals
Precision Powerwash is considered by many of their clients to be the heavy equipment cleaning professionals of Hickory. It doesn't matter how dirty or filthy your heavy equipment is; our experienced and professional team can get the job done. 
We have experience cleaning a variety of different heavy equipment, industrial equipment, and even commercial equipment. We can come to your business or a location of your choice and clean your equipment on-site, saving downtime and transport time.
Heavy Equipment Cleaning for Industrial and Commercial Equipment in The Greater Hickory Area
Heavy equipment cleaning with Precision Powerwash of NC makes a world of difference in keeping the equipment in your Hickory business in excellent working condition. As a top pressure washing provider in the area, we pride ourselves on restoring any commercial machine to its original perfection. 
Whether you need to degrease and cleanse production line equipment or you need commercial pressure washing at a construction site, Precision Powerwash of NC's heavy equipment cleaning can meet your needs. Don't hesitate to contact us today to find out more! 
The Importance of Heavy Equipment Cleaning
It ensures that your equipment is safe to use.

Heavy machinery that is weighed down by grease, oil, and other grime is more susceptible to stalling and breaking down. In some cases, this faulty equipment may not be safe for people to operate. Heavy equipment cleaning ensures that any functionality issue with your machinery will be brought to light and resolved before it can cause any harm.

It extends the lifespan of your equipment.

We all know that the secret to making anything last is in putting in the effort to clean and maintain it. Heavy equipment cleaning is what your machinery needs to avoid falling into disrepair and needing total replacement. Trust us; it's much more cost-efficient to have us clean your equipment than it is to have to replace a piece of heavy machinery.

It ensures that your equipment doesn't overheat.

Excessive heat can spell disaster for some construction equipment, and dirty machines are more likely to have this problem than clean ones. Heavy equipment cleaning keeps temperatures controlled so that your machinery doesn't endure undue damage and causes your company to lose production and money.

It lets you take pride in your business.

Keeping your machinery clean is not only appealing to customers and investors but also to you. You can be proud of your machinery's shiny appearance because it indicates the level of care you put into your livelihood.
Our friendly and professional team is standing by to assist you with a 100% free, no-obligation quote on professional pressure washing services in Hickory, NC. Contact us today!