Gutter Cleaning in Hickory, NC
Keeping Hickory Gutters Clean With Superb Gutter Cleaning
Our team at Precision Powerwash has been successfully cleaning gutters throughout the Hickory area for years. We have the experience and equipment to successfully clean your gutters and ensure that any debris, leaves, or rubbish is removed. If your gutters are dirty and overflowing, you need to work with the professionals at Precision Powerwash! 
It may seem trivial, but when your gutters are full of rubbish, leaves, and debris, it can lead to a variety of expensive and inconvenient repairs. As all the rubbish builds up in your gutters, it can block your downspouts and cause water to pool on your roof. All that water eventually has to go somewhere, and unfortunately, most of the time; it finds its way into your home. Read about Deck Cleaning in Hickory, NC here.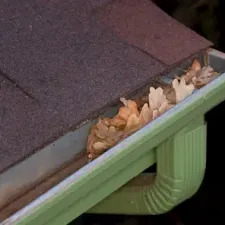 Gutter Cleaning Hickory 
Precision Powerwash is proud to be part of the local Hickory, NC community and has been cleaning gutters for residential and commercial properties for years. Our experienced team of professional technicians has spent hours soft washing and cleaning gutters to ensure that homes are protected from flooding and other damage. 
At Precision Powerwash, we provide a variety of different pressure washing services, including:

Pressure Washing

Soft Washing

Roof Cleaning

House Washing

Deck Cleaning

Gutter Cleaning

Red Clay Removal

TRS Sealing

Shopping Cart Sanitization

Gum Removal

Stain Removal

Maintenance Cleaning

Heavy Equipment Cleaning

Fleet Washing



It doesn't matter how big or small the building is, how blocked the gutters are, or whether or not it's a residential, commercial, or industrial building. Our experienced team can get the job done. We use the latest in soft pressure washing techniques to successfully clean your gutters while ensuring your roof and shingles are 100% protected from any damage.
Gutter Cleaning Near Me 
If you have been searching for gutter cleaning near me in Hickory, then Precision Powerwash should be your first call! Our experienced and friendly specialists have been cleaning gutters throughout the Hickory area for decades. As part of the local Hickory community, they understand the importance of doing a great job. There's no gutter that's proven too tough or too difficult for our experienced team. 
Living and working in the Hickory community means that our employees are invested in their local city. As a family-owned and operated business, Precision Powerwash encourages a strong sense of community spirit. When we aren't busy cleaning gutters and pressure washing homes, you might find us at the Hickory Museum of Art enjoying the exhibitions with our family. 
Gutter Cleaning Professionals 
As gutter cleaning professionals, there isn't a gutter yet that we haven't been able to clean and leave looking like new. It's essential that gutters are regularly cleaned to prevent them from becoming blocked or clogged with leaves and other debris. The more often you clean them, the easier the process will be, and the less you'll need to worry about what's happening up on your roof.
It's easy to forget about our gutters up on the roof, but when the water starts overflowing them in a storm or bad weather, you'll get a quick reminder! Don't leave your gutters too late. Call the gutter cleaning professionals at Precision Powerwash.
Keep Your Hickory Gutters Free of Debris with Gutter Cleaning
Precision Powerwash of NC offers Hickory unparalleled gutter cleaning services. Our pressure washing specialists strive to protect homes from the effects of clogged gutters so that your other home exteriors stay in excellent shape. 
We know that gutter cleaning can be a time-consuming, tedious, and physically demanding project. Not to mention dangerous if you don't have professional height equipment and experience working at heights. 
That's why our team of qualified professionals wants to take care of this task for you. Our knowledge and experience make gutter cleaning quick and painless, and we offer affordable pricing on all of our gutter cleaning services.
The Importance of Gutter Cleaning
Gutters perform one of the most important jobs of all home exteriors. They guide rainwater down from the roof and away from your home's foundation. However, gutters inevitably become clogged by leaves, sticks, mud, weather debris, and animal nests that can stop water from flowing out. This pooled water can then cause issues like wood rot, foundational cracks, and damaged landscaping. 
Standing water and grime accumulated inside of gutters can also put a strain on your downspouts and cause them to pull at the brackets, securing them in place. For these reasons, it's vital for homeowners to implement regular gutter cleaning. If you're concerned that your gutters are becoming clogged, then there's no time to waste! Reach out to us at Precision Powerwash and ask about our premier gutter cleaning for your Hickory home today! Be sure to also inquire about roof and concrete cleaning to extend improvement efforts to other areas of your home!
Pressure Wash Your Gutters Inside and Out
Keeping your gutters unclogged is crucial for protecting your other exteriors, but it's also important to remember to clean the outside of gutters, too! Mold and mildew form on the outside of gutters and cause an unsightly appearance that makes your home look rundown and uncared for. 
Our experienced operators at Precision Powerwash can clear away any grime or mold present on the outside of gutters without damaging them so that your home's aesthetic is free of unsightly dirt buildup. Our friendly and professional team is standing by to assist you with a 100% free, no-obligation quote on professional pressure washing services in Hickory, NC. Contact us today!