Fleet Washing in Hickory, NC
Keep Your Commercial Vehicles Looking Their Best With Fleet Washing
If you have been searching for professional fleet washing in Hickory, then look no further than our experienced team at Precision Powerwash! We have been supplying high-quality fleet washing that's both affordable and reliable. If you have a fleet of vehicles that requires regular fleet washing, then we have the equipment and team to get it done. 
Keeping your fleet of vehicles clean and tidy can feel like a full-time job sometimes, but the last thing anyone wants to see is their company vehicles looking filthy and run down. After all, your fleet vehicles are out in the community every day representing your business, and you want them looking great 100% of the time.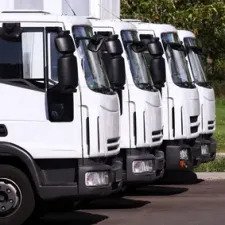 Fleet Washing Hickory 
At Precision Powerwash, we have an experienced team of fleet washing specialists that have been providing fleet washing in Hickory for years. With decades of combined experience, our fleet washing team knows the perfect way to clean your fleet vehicles. We use a combination of safe yet effective soft pressure washing and environmentally friendly cleaning solutions to leave your vehicles looking amazing! 
At Precision Powerwash, we provide a variety of different pressure washing services, including:

Pressure Washing

Soft Washing

Roof Cleaning

House Washing

Deck Cleaning

Gutter Cleaning

Red Clay Removal 

TRS Sealing

Shopping Cart Sanitization

Gum Removal

Stain Removal

Maintenance Cleaning

Heavy Equipment Cleaning

Fleet Washing



It doesn't matter if you have a fleet of trucks, vans, or cars; we can handle all your fleet washing needs. We'll organize a time and place that's convenient for you, and we can also set up regular recurring appointments to maintain and clean your fleet of vehicles. 
Fleet Washing Near Me 
Finding fleet washing near me in Hickory shouldn't be a chore. Having a company come out to your business and wash your fleet of vehicles shouldn't be a challenge. As part of the local Hickory, NC community, we understand that being reliable and punctual is vital. The last thing that any business owner wants is to have their vehicles standing by idle waiting to be cleaned. 
At Precision Powerwash, we are proud to be part of the local Hickory community when we aren't working, which isn't a lot of the time! We enjoy spending time with friends and family, visiting local Hickory attractions like the Kiwanis Park.
Fleet Washing Professionals 
Your fleet of vehicles is not only a valuable asset but also the face of your business. When your employees are driving around Hickory and surrounding areas, they're representing your business. The last thing that any business owner needs are their vehicles looking dirty, stained, or shabby. 
Our experienced and professional technicians can come to your business at a time and date convenient to you to organize a 100% free, no-obligation quote on any fleet washing services. When your fleet needs washing, call the fleet washing professionals at Precision Powerwash!
Keep Your Commercial Vehicles Looking Their Best with Fleet Washing
Precision Powerwash of NC provides Hickory business owners with quality fleet washing services to keep their work vehicles looking great and running smoothly. 
Your commercial vehicles bring exposure to your company as they advertise your brand on the road. That's why it's important to keep your trucks clean and your company logos visible, as everyone who sees your commercial vehicles is potentially a new client. 
Our experts use effective and environmentally safe pressure washing techniques to clear out any built-up grime from your vehicles so that they'll shine like new and continue proudly advertising your company!
The Importance of Professional Fleet Washing
It keeps your drivers happy.

Keeping your commercial vehicles clean gives your drivers a pleasant atmosphere to travel in. Since many drivers spend a sizable amount of time behind the wheel, you'll want to make sure their vehicles are clean, comfortable, and well-maintained to show you value them and the work they do.

It extends the life of your vehicles.

Maintaining regular washing removes corrosive substances like salt and oil from your vehicles and preserves their paint jobs and undercarriages from wear and tear. This helps you avoid expensive repair costs over time and can help lengthen the service life of your commercial vehicles.

It adheres to local environmental regulations.

Because fleet washing requires lots of water and chemical solutions, most local governments have laws in place meant to protect the environment from irresponsible washing practices that can hurt wildlife and the water supply. The trained experts at Precision Powerwash of NC know how to comply with regulations and responsibly clean your fleet to back to perfection so you won't have to worry about accidentally breaking the regulation and facing a hefty fine.

It saves you time.

Trying to do your own fleet washing would take much longer than simply hiring a professional. For any business owner, time is money. We know that your time is better spent on other matters of business, and that's why we're dedicated to handling the tedious task of fleet washing for you. Our experience and professional-grade equipment make washing your fleet a breeze. We'll have your commercial vehicles gleaming like new in no time!
If your Hickory truck fleet needs commercial pressure washing services to keep effectively serving your business, then Precision Powerwash of NC is here for you! Contact us today and ask about our fleet washing services so we can restore your vehicles to perfection! Our friendly and professional team is standing by to assist you with a 100% free, no-obligation quote on professional pressure washing services in Hickory, NC. Contact us today!