Shopping Cart Sanitization in Hickory, NC
Complete Shopping Cart Sanitization For Stores In The Greater Hickory Area
Precision Powerwash of NC is proud to provide shopping cart sanitization to commercial businesses in the Hickory area. Our goal is to ensure that your business's shopping carts are free of germs and safe for your customers to use.
How Germy Are Shopping Carts?
Did you know that grocery store shopping carts have more germs and bacteria on them than cell phones, doorknobs, and even toilet handles? In fact, every cart you've ever used has likely been coughed on, sneezed on, and handled by unwashed hands that have touched dozens of other items in the store. The reality of shopping cart dirtiness is a startling one. Since shopping carts change hands dozens of times throughout the day, it's crucial for business owners to prioritize professional cart cleaning to promote good health and prevent possible illness among customers and employees. Information about Commercial Pressure Washing in Hickory, NC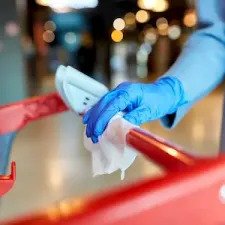 At Precision Powerwash of NC, we use pressure washing to kill germs and sanitize all carts with heated, high-pressure water spray. We can sanitize many shopping carts reasonably fast so that you can put them back into service quickly. Shopping cart sanitization is a great investment in business and one that protects the health of your customers and employees. As a business owner, this should be your top priority over all else. Shopping cart sanitization also gives your business a clean appearance and a good image, both of which appeal greatly to customers.

If your Hickory business utilizes shopping carts, then you don't want to pass up the shopping cart sanitization services Precision Powerwash of NC has to offer! Let us help you achieve a healthy environment for your customers and workers alike with the exceptional commercial pressure washing that leaves your carts germ-free.