Red Clay Removal in Hickory, NC
Complete Red Clay Removal And Stubborn Stain Cleaning Services In Hickory, NC
Precision Powerwash of NC's team of experts specializes in red clay removal services for the residents of Hickory and surrounding areas. Our team is all too familiar with the reddish-brown substance that frequently plagues Hickory homeowners, and we assure you that we're prepared to eliminate its presence from your house quickly and efficiently. Don't let stubborn stains mar the exterior of your otherwise beautiful Hickory home. Reach out to the experts at Precision and find relief with our red clay removal services. Discover facts about YOUR COMPLETE RESIDENTIAL & COMMERCIALEXTERIOR CLEANING SPECIALISTS!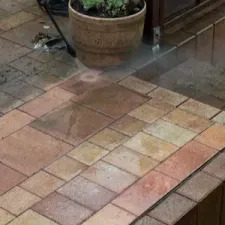 What is Red Clay?
Red clay is one of the more common soil types in this region of the country, making many Hickory homes susceptible to noticeable red stains on their siding and masonry. Red clay stains occur especially after heavy rains, which cause the soil to liquefy and splash up onto foundation walls and siding. This soil gets its red color from the presence of iron oxide, better known as rust, and is especially tricky to remove from brick, concrete, and stone once it settles into their porous cavities. That's where Precision's reliable pressure washing comes in. We know how to treat these stubborn stains with chemical solutions so that they dissolve easily and leave behind only a clean and flawless exterior surface. It's important to remember that the longer red clay stains sit, the harder they are to remove. That's why you should schedule red clay removal services at first sight of stains. At Precision, we understand how easily red clay stains can occur and how badly they throw off the aesthetic of your home. These unsightly orange splotches create huge eyesores on your exteriors that are impossible to overlook. It's frustrating, to say the least, and almost impossible to fully remove on your own. Luckily, our solutions and equipment can eradicate this unwelcome mess on your home without causing damage to the exteriors beneath. You can finally so long to the red clay shattering the perfect image of your property once and for all!
If your beautiful home is blemished by unattractive red and orange discoloration, then you need Precision Powerwash of NC: the leader in red clay removal in Hickory! Call today and see what we can do about your red clay stains. If red clay has also affected your wooden deck, then be sure to ask about our premier deck cleaning services, too!