Pressure Washing in Hickory, NC
Trust the Hickory Area's Best Pressure Washing Company To Take Care Of Your Home's Exterior Surfaces
If you have been searching for pressure washing services near me in Hickory, then Precision Powerwash should be your first and only call! Our experienced and professional pressure washing specialists have the equipment and experience to professionally power wash your home or business. 
When it comes to professional pressure washing services in Hickory, Precision Powerwash will be there when you need it the most. Don't hesitate to reach out and contact us directly for any pressure washing services in Hickory, NC. One of our friendly and professional team members will be in touch to organize a 100% free, no-obligation quote on pressure washing services.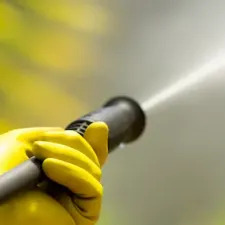 Pressure Washing Hickory
Precision Powerwash of NC is the pressure washing company of choice for Hickory and all surrounding communities. We understand the importance and value of providing our clients with quality exterior cleaning. When it comes to keeping your home beautiful, increasing its lifespan, and keeping it a healthy environment for you and your family, Precision Powerwash is there to help.
At Precision Powerwash, we provide a variety of different pressure washing services, including:

Pressure Washing

Soft Washing

Roof Cleaning

House Washing

Deck Cleaning

Gutter Cleaning

Red Clay Removal 

TRS Sealing

Shopping Cart Sanitization

Gum Removal

Stain Removal

Maintenance Cleaning

Heavy Equipment Cleaning

Fleet Washing



Regardless of whether you're looking for residential pressure washing services or commercial pressure washing services, we have the equipment, knowledge, and qualified professionals to get the job done. Our experienced pressure washing specialists are all fully trained and insured so that you can rest easy knowing that experienced and qualified professionals are working on your property. 
Pressure Washing Near Me
As part of the local Hickory community, we understand the importance of doing a fantastic job for every one of our clients. We live and work in the local Hickory area and are experienced with the local Hickory weather conditions and the environmental impact that weather can have on the exterior of residential and commercial properties. 
Being part of the local Hickory community is extremely important to our team members. Precision Powerwash is a family-owned and operated business. When we aren't pressure washing residential and commercial buildings, we're out and about enjoying local activities such as the Hickory Aviation Museum. If you find yourself with any spare time, there are a variety of other amazing activities to be enjoyed in the local Hickory, NC area. Learn more about Gutter Cleaning in Hickory, NC.

Pressure Washing Professionals 
Getting professional pressure washing services for your home, business, rental property, or commercial building shouldn't be an impossible task. At Precision Powerwash, we know that when we make a booking, our clients rely on us to show up on time and do a fantastic job. 
That's why we take our jobs so seriously. Professional pressure washing services can transform the external appearance of your home or building. We utilize the latest soft washing techniques to ensure that not only does your 
The Importance of Pressure Washing Your Home
Pressure washing is one of the most important things that any homeowner or property owner can do to protect the look and quality of their home. In the following section, we're going to cover some of the benefits of using our pressure washing company, Precision Powerwash NC, to achieve a flawless home exterior! 
Boost Curb Appeal
The best part of homeownership is being able to take pride in the beauty of your investment. Coming home at the end of a long day and appreciating what you've been working so hard for is one of the most satisfying feelings any property owner can have. 
Keeping your Hickory home in a good, clean condition also helps to ensure that if you want to sell your property, you're going to achieve a great valuation and selling price. You'll be able to wow any prospective buyers with a sparkling clean exterior and make your home stand out in their memories. After you've looked at dozens of homes, it's the small details such as an immaculate exterior or perfect driveway that stand out in buyer's minds. 
You can trust Precision Powerwash to eliminate any stains, dirt, and organic growth that can hurt your home's first impression to buyers and get you the maximum resale value!
Increase Energy Efficiency and Save Money
Having areas like roofs and windows professionally pressure washed is an effective way to reduce your energy costs and usage. You'd be surprised at how quickly a few dollars can up to a serious amount of money. 
As these exterior surfaces begin to accumulate dirt and grime, they also trap unwanted heat inside your home and force your air conditioning to work harder than necessary to restore comfortable temperatures. Clean exterior surfaces do not trap excess heat and mean that you'll be using your heating and utilities less. 
Remove Harmful Toxins
It's common for a home's exterior surfaces to develop toxic growths like mold and mildew, both of which can cause allergies, respiratory problems, and skin irritation in humans. These growths also cause decay, and if they aren't removed quickly, then it's possible for them to eat into your exterior material and reach the inside of your home. 
This will only increase the likelihood that they will cause health concerns for you and your loved ones. Using a pressure washing company like Precision Powerwash of NC is the best way to guarantee that your family's health isn't negatively impacted by the presence of these toxins.
Prevent Damage and Repairs
Being proactive about the removal of dirt and toxin buildup on the exterior of your property can save you the hassle of experiencing unexpected damage, which is quickly followed by expensive repair bills. 
Gutter cleaning, roof cleaning, and pressure washing can help prevent damage from standing water and decay from mold and mildew. To keep the exterior of your home intact and looking great, reach out to Precision Powerwash of NC, the most trusted pressure washing company in Hickory, NC! Our friendly and professional team is standing by to assist you with a 100% free, no-obligation quote on professional pressure washing services in Hickory, NC. Contact us today!