Soft Washing in Hickory, NC
Soft Washing Will Protect The Exterior Surfaces Of Your Hickory Home
If you have been searching for professional soft washing in Hickory, then Precision Powerwash should be your first call! Our friendly, professional, and affordable soft washing services are the perfect way to restore the exterior of your property. As your property ages, the exterior can become dirty, stained, and covered in harmful build-up. Soft washing is the perfect way to have exterior areas of your property look amazing! 
Pressure washing is an effective way to lift and remove stains, mold, dirt, and other build-ups, but high pressure washing can also damage exterior surfaces. That's why at Precision Powerwash, we use a revolutionary soft washing technique that leaves your surfaces looking like new without any risk of damage.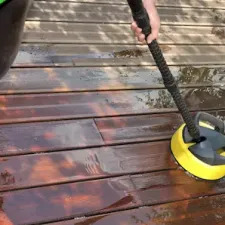 Soft Washing Hickory 
Soft washing the exterior of your Hickory home has never been easier or more affordable. At Precision Powerwash, we offer a variety of affordable soft washing services that are perfect for cleaning the exterior of your home, business, investment property, or commercial property.
At Precision Powerwash, we provide a variety of different pressure washing services, including:

Pressure Washing

Soft Washing

Roof Cleaning

House Washing

Deck Cleaning

Gutter Cleaning

Red Clay Removal

TRS Sealing

Shopping Cart Sanitization

Gum Removal

Stain Removal

Maintenance Cleaning

Heavy Equipment Cleaning

Fleet Washing



Our superior soft washing service can be used to clean various surfaces, including bricks, cladding, driveways, paths, wooden decks, pavers, concrete, parking lots, and much more. If you have any exterior surfaces that need to be cleaned, then soft washing is an effective and affordable way to do it.
Soft Washing Near Me 
If you have been searching for soft washing near me in Hickory, then you have come to the right place! Our experienced and professional technicians have been soft washing residential and commercial buildings throughout Hickory for years. As proud members of the local Hickory community, we also enjoy spending time with our friends and family, enjoying activities such as bike riding and hiking in Bakers Mountain Park. Discover facts about Pressure Washing in Hickory, NC.

At Precision Powerwash, we understand the importance of doing a job right. That's why we complete a thorough walk-through and inspection after we complete all our soft washing jobs to ensure that it's 100% looking fantastic. If you need any exterior areas cleaned, such as driveways, paths, patios, and decks, then please don't hesitate to reach out to us. 
Soft Washing Professionals 
As the soft washing professionals of Hickory, Precision Powerwash has the equipment and experienced operators standing by to assist you with any soft washing projects. Did we mention that we're also affordable? You shouldn't be expected to pay a fortune to have the exterior areas of your residential home or business looking amazing. Our friendly and professional team members can come to your property at a time and date convenient to you to organize a 100% free, no-obligation quote on any soft washing services.
Soft Washing Will Protect the Exterior Surfaces of Your Hickory Home
Hickory can't go wrong with Precision Powerwash of NC's unmatched soft washing services to take their delicate home exteriors from dirty and dreary to clean and revitalized. Our pressure washing experts use a combination of low water pressure and cleaning solutions to treat stains and dirt buildup on surfaces like windows, roofs, and siding. This method effectively removes dirt, toxins, pollen, and other debris from your exteriors without causing damage to them.
Save Your Roof from Premature Replacement
Soft washing is the safest roof cleaning method to cleanse and protect any type of roofing material, and it's necessary if you want to maximize your roof's service life. A dirty roof is susceptible to more serious damage, and neglecting to clean yours puts it on the fast track for a total replacement. Roof cleaning brings attention to areas that need small repairs before the damage becomes critical, and you're forced to shell out a hefty sum of money to have it fixed. Rely on Precision Powerwash of NC's soft washing expertise to preserve your roof and keep it in excellent condition.
Increase Energy Efficiency
A roof bogged down with dirt and grime is prone to trapping excess heat and pushing it down into your home. Dirty windows also keep out natural warmth from the sun during cold seasons. Both situations leave you to depend on air conditioning to restore comfortable temperatures, thus driving up your utility costs throughout the year. Don't let dirty exteriors force you to throw your money away. Invest in soft washing to keep your home and your wallet comfortable.
Thoroughly Sanitize All Exterior Surfaces
It's no secret that toxins like mold and mildew love to make a home of your home's exterior. This harmful biological matter is not only detrimental to your home's material but also the health of your family. Mold and mildew can easily spread to the inside of your home and cause allergic conditions in you and your loved ones. The chemical detergents used in soft washing kill these problematic substances and keep them from spreading any further. Sanitization through soft washing keeps you and your family healthy and your exteriors clean and intact.
Enhance Your Curb Appeal
Soft washing is a great way to boost your curb appeal and make your home stand apart from the rest. Removing stains and organic growth can make your home appear years younger and well cared for, which will come in handy if you ever decide to put it on the market. A clean home exterior is what will draw prospective buyers in and make them want to see more, so you can't afford to neglect this important part of maintenance.
Our friendly and professional team is standing by to assist you with a 100% free, no-obligation quote on professional pressure washing services in Hickory, NC. Contact us today!