Deck Cleaning in Hickory, NC
Keep Your Hickory Deck Clean With Superb Deck Cleaning
If you have been searching for professional deck cleaning in Hickory, NC, then look no further than Precision Powerwash! Our experienced and professional team has decades of combined experience bringing old, faded, and dirty decks back to life with low-impact soft washing techniques. 
Your deck is the heart and soul of your property over summer, and even in the winter months, many people find themselves outside on their deck. As wooden decks age, they begin to fade, and dirt, mold, rot, and grime start to set in. Luckily, with the right equipment and a little bit of experience, you can bring many old decks back to life.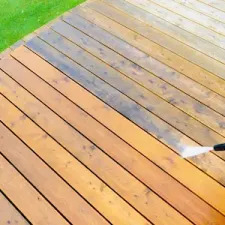 Deck Cleaning Hickory
If you live in Hickory or surrounding areas, and your deck is starting to look a little tired or worn out, then you need the help of our professional deck cleaning services. At Precision Powerwash, we have an experienced team and the right equipment to restore your deck to new! 
Utilizing specialized soft washing equipment and safe yet effective cleaning solutions, our experienced team can leave your deck looking like the day it was first installed. For deck cleaning, Hickory, you know that you can rely on Precision Powerwash. 
At Precision Powerwash, we provide a variety of different pressure washing services, including:

Pressure Washing

Soft Washing

Roof Cleaning

House Washing

Deck Cleaning

Gutter Cleaning

Red Clay Removal

TRS Sealing

Shopping Cart Sanitization

Gum Removal

Stain Removal

Maintenance Cleaning

Heavy Equipment Cleaning

Fleet Washing
Deck Cleaning Near Me 
If you have been searching for deck cleaning near me in Hickory, NC, then Precision Powerwash should be your first call. As a family-owned and operated business, our employees live and work in Hickory. When we aren't cleaning decks throughout Hickory and in the surrounding areas, we're doing fun family activities such as enjoying the local LP Frans Stadium.
Finding a reliable company near me to clean your deck isn't always easy, but at Precision Powerwash, we'll be there when you need us. One of our friendly and professional specialists will visit your home at a time and date that's convenient to you and give you a 100% free, no-obligation quote on any deck cleaning. When you need a reliable deck cleaning company that you can trust, Precision Powerwash will be there! Click here to read about House Washing in Hickory, NC.
Deck Cleaning Professionals 
Finding deck cleaning professionals shouldn't be a challenge. Our customer reviews and feedback from clients speak for themselves. We specialize in a soft washing technique that will effectively clean your deck, removing dirt, grime, stains, and mold without any risk of damaging the surface. 
If you have been searching for deck cleaning professionals, then Precision Powerwash and our team of friendly and experienced technicians are standing by to help you. When you have a dirty deck that needs attention, don't hesitate to reach out and contact us.
Keep Your Hickory Deck Clean with Superb Deck Cleaning
Precision Powerwash of NC is the solution for all Hickory's deck cleaning needs. We know that your deck is an investment and a place where you and your family can enjoy time outside together. That's why our pressure washing specialists are dedicated to restoring the original beauty of your deck and preserving its structural integrity. 
Because decks are often outdoors and exposed to the elements, they face a constant barrage of harsh natural elements that can wear them down and make them look dull. The last thing you want is to have to replace your deck sooner than expected.
Deck wood is also vulnerable to rot, splintering, and cracking if it's not maintained as needed, which can end up causing injury to family and friends, especially over those warm summer months as the wood dries out. 
To keep weathering in check and to prevent damage that warrants a full deck replacement, we suggest prioritizing deck cleaning as part of your home maintenance routine. Deck cleaning effectively kills off mold and mildew so that they can't cause wood rot or impact your family's health. It also clears away any built-up weather debris, dirt, and grime that's leftover after a storm or harsh season.
In addition, deck cleaning eradicates any slippery moss or algae growing on your deck so that it remains a safe surface to walk on and doesn't pose a fall risk for you and your loved ones.
Our deck cleaning services will protect your deck from the elements and have it looking as good as the day it was installed! Contact us today and ask about a free estimate and be sure to ask about some of our other exterior cleaning services, like gutter or concrete cleaning, to extend the restoration efforts to all areas of your home!
Our friendly and professional team is standing by to assist you with a 100% free, no-obligation quote on professional pressure washing services in Hickory, NC. Contact us today!