Stain Removal in Hickory, NC
Remove Unsightly And Stubborn Exterior Stains Commercial Pressure Washing Stain Removal
Precision Powerwash of NC is the pressure washing stain removal expert Hickory home and business owners need to effectively eliminate all signs of exterior staining. From red clay stains to mold to algae, there's no stain that we can't tame. Our pressure washing techniques and biodegradable detergents equip us to dissolve even the most set-in discoloration plaguing your home.
Common Types of Exterior Staining
Algae – Characterized by black or green streaks, algae stains are commonly found on roofs. This type of algae is referred to as Gloecapsa magma in the scientific community, and its spores spread through the air, making rooftops an easy target for them to land on. Although GM can affect any type of roofing, it is most common on asphalt shingles.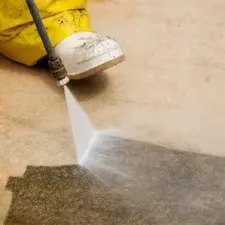 Red Clay – Known for its vibrant reddish-brown color, red clay stains is a soil most common in the southeastern region of the country. Red clay stains frequently occur as a result of heavy rains, making them difficult to avoid.
Dirt – Dirt, mud, and other grime can leave behind stains on your home's exterior that makes it appear drab and dingy. Dirt stains are common and inevitable, especially after spells of rain and storms.
Mold – Mold shows up as spotty, black, white, or brown discoloration and can occur anywhere that sees frequent moisture. Mold is a toxic growth that can not only deteriorate your home's material but also can cause health problems for people. It's important to have mold treated at the earliest sign, as leaving to worsen will only cause damage that pressure washing won't be able to fix.
The team of experts is well-practiced at handling all the types of stains mentioned above. Our pressure washing stain removal is just what you need to resolve almost any form of discoloration that is subtracting from the beauty of your home. Our commercial pressure washing services are also available to remove unsightly stains and streaks from your business property. Don't let stains overtake your home or commercial business. Instead, invest in professional pressure washing stain removal and see your property transformed in no time!
For all of your pressure washing stain removal in Hickory, Precision Powerwash of NC is the qualified expert who will yield the results you want every time.