Cornelius' Leader in Pressure Washing Services
If you're in Cornelius and need premier pressure washing for your home, then Precision Powerwash of NC is the exterior cleaning professional to help you! We specialize in restoring the beauty and quality of any property, and our dedicated team of experts goes above and beyond to ensure that you'll be satisfied with our work. If you've noticed an accumulation of dirt, mold, or mossy green algae on your roof or siding, then our soft washing treatment is the remedy your home needs! Or maybe your driveway is sporting splotchy stains from oil leaks and needs a healthy dose of pressure washing to return to its former beauty. Whatever unique issue your home is facing, Precision Powerwash of NC has you covered. Read on to see just a few of the services we offer to make you fall in love with your Cornelius property all over again!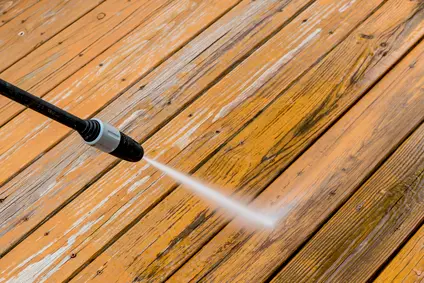 Pressure Washing
Pressure washing is at the heart of any good home maintenance routine. It's the most effective way to clear out any deeply embedded stains and dirt from your home's exterior material and keep it looking flawless. At Precision Powerwash of NC, we specialize in pressure washing services that eliminate stains from mold, algae, moss, and other caked-on grime that disrupt your home's neat aesthetic. Our pressure washing also helps to ensure that your exteriors will last as the years go on as regular cleaning and maintenance prevent more serious damage. If your home is looking dreary from seasons of built-up dirt, then it's time to invest in top-quality pressure washing work that will invigorate the look of your exteriors.
Heavy Equipment Cleaning
To stay in excellent working condition, the heavy equipment in your commercial business or production line needs regular cleaning and maintenance from a trusted professional. Precision Powerwash of NC is equipped and trained to clear away any dust, grease, oil, or other grime that may be built up on your machinery. Dirty machinery is more likely to malfunction, and it's also not safe for workers to operate. If your business incorporates the use of heavy equipment, then our heavy equipment cleaning is just what you need to keep production running smoothly. Call us today and ask about heavy equipment cleaning for your Cornelius business!
Stain Removal
Stains can make an otherwise beautiful home seem rundown and neglected. Although stains from a variety of natural elements are unavoidable, the good news is that professional pressure washers like Precision Powerwash of NC specialize in stain removal services for any exterior surface of your home. From algae streaks to red clay spots, we know the procedures and chemical detergents necessary to blast any embedded stains away and restore your home to perfection. Don't let stains subtract from the beauty of your Cornelius home. Let Precision Powerwash of NC handle all the stain removal work you need!
Make your Cornelius home or commercial property shine with Precision Powerwash of NC's unmatched pressure washing services!
Recent Articles & Tips
WAYS PRESSURE WASHING SAVES YOU MONEY

Professional pressure washing provides a host of benefits for your home, but it can also help you save money in several ways. If you're on the fence about spending money on a professional contractor, […]