Gastonia's Leader in Pressure Washing Services
Precision Powerwash of NC is proud to provide the finest in pressure washing and exterior cleaning work to Gastonia and surrounding communities. We are dedicated to helping home and business owners take pride in the beauty of their properties by removing unsightly dirt buildup and organic growth that tarnishes the aesthetic of these structures. We also offer protective services like Thermo Reactive Sealing to protect concrete masonry from damage and degeneration. Whatever challenge your exteriors are facing, we are the professionals you want to restore the quality and appearance of your home or business. Read below for just a small sample of what we can do for your Gastonia property!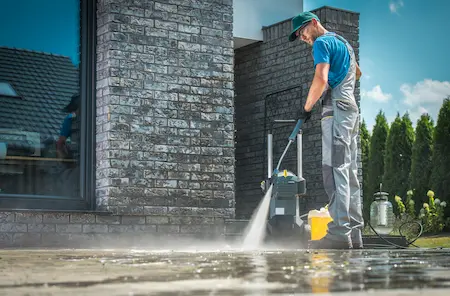 Keep Your Home Toxin Free with House Washing
Contaminants like mold and mildew frequently make a home on your roof and outer walls. These growths not only cause unattractive staining, but they are also harmful to humans. Mold is known to cause respiratory problems and other complications that spell trouble for you and your family. Professional house washing is a quick and effective means of killing these substances and restoring your family's safe and healthy environment. If your Gastonia home is seeing the effects of mold and mildew, then Precision Powerwash of NC has the solution you need. Reach out to us and ask about our premier house washing services.
Protect Your Home with Gutter Cleaning
Gutters perform the important job of guiding rainwater down from the roof and away from your home so that standing water doesn't cause any undue damage to other exteriors. Unfortunately, it's all too common for gutters to become clogged, which compromises their ability to function properly. Gutter cleaning is a hassle for many homeowners and can be unsafe if you're not accustomed to working from elevated heights. Luckily, Precision Powerwash of NC is here to help! We offer gutter cleaning that gets your gutters cleared out, sanitized, and back into working order. Don't run the risk of clogged gutters, causing serious damage to your home; let us handle all your gutter cleaning needs!
Red Clay Removal
Red clay is a common type of soil found in North Carolina and surrounding states, and after heavy rains, it can leave unsightly red stains on concrete, brick, and other hardscapes. Because red clay contains iron oxide or rust, it can be tricky to remove on your own. At Precision Powerwash of NC, our team makes red clay removal from your Gastonia home or business a painless experience. Using pressure washing and specialized detergents, we thoroughly clear out any reddish discoloration affecting your home. Don't let red clay stains be an eyesore on your property. Let us get your home back to sparkling perfection!
Preserve the quality and unique elegance of your Gastonia home with Precision Powerwash of NC's unparalleled pressure washing services! Reach out to us today!
Recent Articles & Tips
WAYS PRESSURE WASHING SAVES YOU MONEY

Professional pressure washing provides a host of benefits for your home, but it can also help you save money in several ways. If you're on the fence about spending money on a professional contractor, […]