Your Local Pressure Washing Company in Hickory, NC
Precision Powerwash of NC is the solution to Hickory's unique exterior pressure washing needs. Our trained experts deliver the finest in pressure washing services to renew the appearance of driveways, sidewalks, decks, patios, and more! We also offer premier soft washing to cater to your more delicate exterior features like roof shingles, stucco, windows, and siding. There's no surface we can't transform, and we offer a satisfaction guarantee to every valued client.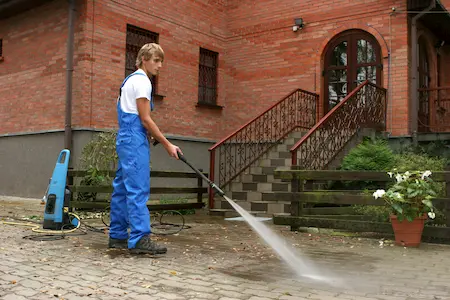 If your Hickory business is suffering from dirt and staining or simply needs sanitizing, then our commercial pressure washing services are just what you're looking for! We offer everything from fleet washing and heavy equipment cleaning to gum removal so that all areas of your business are well-maintained. For Precision Powerwash of NC, there is no challenge too great. We can't wait to help you take your home or business to the next level and help you take pride in your property again! Read on for just some of the services our pressure washing specialists have available for Hickory residents!
Maximize Your Roof's Service Life with Professional Cleaning
Your roof has one of the hardest and most important jobs of all exteriors: protecting you and your family from harmful weather and outdoor elements. This vital part of your house is constantly subjected to harsh sun exposure, rain, snow, and ice. It also inevitably develops buildups of dirt, mold, and algae that cause visible stains. The combination of these conditions can wear your roof down significantly over the years. Professional roof cleaning is the most effective way to combat these issues and restore the look and quality of your roof. If you want to prevent serious damage and premature roof replacement, then roof cleaning with Precision Powerwash of NC is the way to go!
Protect Delicate Exteriors with Soft washing
Hailed by experts as the ideal cleaning method for several fragile exteriors, soft washing delivers a gentle but effective low-pressure clean. Mild water spray paired with environmentally safe chemical solutions removes stains from roof shingles, stucco, and siding without damaging them. It also kills mold and other toxic growths, so they don't spread to the inside of your home. If you're looking to improve the look and quality of more delicate exterior surfaces, then soft washing is the answer for you!
Revive Your Business Exterior with Gum Removal
Nothing ruins the look of a reputable business, quite like the presence of chewed gum stuck all over its exterior surfaces. This unsightly mess can make your Hickory business appear less reliable and might even cost you new customers. Precision Powerwash of NC can resolve this problem and restore your business' professional appearance with our gum removal services. If gum has become an eyesore at your commercial property, then don't hesitate to call us and get one step closer to taking pride in the aesthetic of your business again!
Give your Hickory home the care it deserves with Precision Powerwash of NC's elite pressure washing services! Make the call today!
Recent Articles & Tips
WAYS PRESSURE WASHING SAVES YOU MONEY

Professional pressure washing provides a host of benefits for your home, but it can also help you save money in several ways. If you're on the fence about spending money on a professional contractor, […]