Your Local Pressure Washing Company in Huntersville, NC
Precision Powerwash of NC is the name of pressure washing in Huntersville. We deliver your home the exceptional exterior cleaning it needs to stay strong and retain its natural beauty over the years. We specialize in cleaning and restoring important parts of your structure like the roof, gutters, siding, and concrete. We also provide heavy equipment and fleet washing to help businesses keep going strong. If your Huntersville property needs a little extra brightening up, then we are the pressure washing team you're looking for! Reach out to us by phone or online and read on to see just some of our available services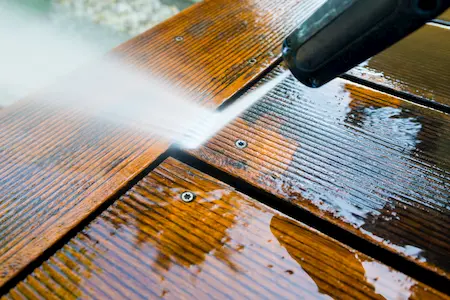 Deck Cleaning
Precision Powerwash of NC's deck cleaning services are just what your deck needs to stay strong in the face of harsh weather conditions and decomposing outdoor elements. Mold, moss, algae, and mildew commonly plague decks and can sometimes cause early decay of wooden deck boards. Deck cleaning kills these substances and removes them completely so that your wooden boards stay intact and sturdy. Heavy storms can also cause a pileup of tree branches, dirt, and mud that can make your deck a rather unpleasant place to be. Deck cleaning clears out any weather debris left behind after a storm so that you and your family can enjoy your outdoor space again. If your deck could use some extra attention, then you need the professional deck cleaning services of Precision!
Roof Cleaning
Professional roof cleaning should be a top priority for any homeowner. Your roof is easily the most important part of your home, and it is also the part most prone to damage from harsh weather and organic growth. Roof cleaning provides a way to keep weather debris cleared out and keep decomposing growths of mold and mildew from crippling your roofing material. Roof cleaning also offsets the need for a total roof replacement. Maximize the longevity of your roof by taking advantage of Precision's expert roof cleaning services.
Soft Washing
Soft washing combines the use of low-pressure water spray from a pressure washer and the cleaning power of chemical detergents to clean many exterior surfaces of your Charlotte home or business. This method is ideal for removing stains and sanitizing your surfaces without causing undue damage. Roof shingles, siding, windows, and other delicate exteriors all stand to benefit from the effective cleaning soft washing provides. Eliminate algae streaks, dirt buildup, and all other unsightly discoloration with soft washing!
Protect and preserve your beautiful Charlotte home by taking advantage of Precision Powerwash of NC's top-rated pressure washing services!
Recent Articles & Tips
WAYS PRESSURE WASHING SAVES YOU MONEY

Professional pressure washing provides a host of benefits for your home, but it can also help you save money in several ways. If you're on the fence about spending money on a professional contractor, […]