Your Local Pressure Washing Company in Lake Norman, NC
When it comes to pressure washing services, Lake Norman has a devoted ally in Precision Powerwash of NC! We specialize in keeping your home or commercial business safe from the elements and enhancing its appearance. We offer a diverse set of services to ensure that we can accommodate any exterior surface issue you're dealing with. If unattractive stains, streaks, and algae growth are wrecking the lovely view of your Lake Norman home, then we're happy to help! If your business building is plagued by red clay stains or gum, then we're the people to call! Our team of professionals is licensed, insured, and well trained in the art of exterior cleaning and restoration. With a decade of successful business behind us and a growing network of satisfied clients, we strive to deliver outstanding customer service and results every time. Read on to see just a few of the services we can provide for you!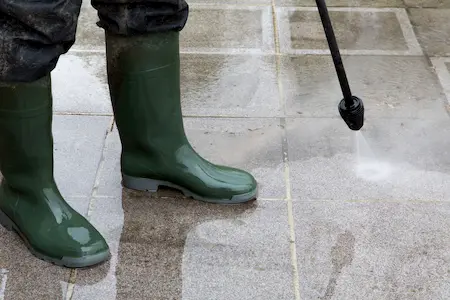 Restore the Look of Your Business with Pressure Washing
Pressure washing can transform the look of any residential or commercial property. If your home is seeing the effects of caked-on dirt, mold, and algae, then Precision Powerwash of NC has the pressure washing services you need to restore its natural beauty. We also specialize in resolving your commercial property's issues with chewing gum buildup, exterior stains, and other grime. Don't let unavoidable dirt, grime, and organic growth distract from all the great things your home or business has to offer. If you're looking to revitalize your Bethlehem property, then call us today and ask about our pressure washing services!
Promote a Healthy Business with Shopping Cart Sanitization
Shopping carts are among the germiest things humans touch regularly. Research suggests that shopping carts in the average supermarket hold more bacteria than cell phones, doorknobs, and even toilet handles. It's a startling fact that most people may not even realize. As a business owner, you'll want to ensure that you're providing the healthiest environment possible for your customers and employees, and that's where Precision Powerwash of NC's shopping cart sanitization comes in handy. We thoroughly sanitize carts, so they don't continue spreading germs that potentially cause illness. If your Bethlehem business uses shopping carts, then you'll want to take advantage of our affordable sanitization services and keep your business a healthy place for everyone.
Gum Removal
Wads of chewed, grimy gum sticking on the outside of your business is an unsightly mess and can hurt your reputation. Potential customers may see your business as less trustworthy or reliable if it's covered with used chewing gum and looks unkempt. At Precision Powerwash of NC, we offer gum removal services to eliminate this eyesore and return your business's professional appearance. If chewing gum has become a problem for the exterior of your business, then we can quickly and easily provide the solution you're looking for. Don't let your business suffer because of gum. Let the gum removal experts at Precision handle this sticky situation for you!
Keep your Bethlehem property standing tall and strong with Precision Powerwash of NC's pressure washing services!
Recent Articles & Tips
WAYS PRESSURE WASHING SAVES YOU MONEY

Professional pressure washing provides a host of benefits for your home, but it can also help you save money in several ways. If you're on the fence about spending money on a professional contractor, […]